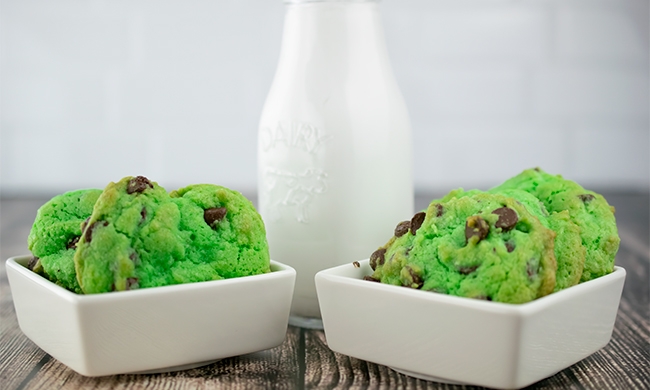 As green as four-leaf clovers, these mint-chocolate chip cookies are the perfect dessert for St. Patrick's Day.
With so much mixing and scooping to be done, kids can help make the cookies, too. One of the best parts of the recipe is creating the eye-catching color. Watch children's smiling little faces as the batter turns from light brown to dark green for a priceless reaction.
Serve these mint chocolate chip cookies with a big glass of milk.
Mint-Chocolate Chip Cookies
Makes about 3 dozen cookies
2 1/2 cups all-purpose flour
1 teaspoon baking soda
1/2 teaspoon salt
1 cup (2 sticks) unsalted butter, softened
1 1/4 cups sugar
2 eggs
30 drops green food coloring
1 teaspoon peppermint extract
1 package (12 ounces) chocolate chips
Preheat oven to 375 degrees.
In a large bowl, mix flour, baking soda and salt until blended. Set aside.
In medium bowl, beat butter and sugar until combined. Add eggs, food coloring and peppermint extract; beat until combined.
Add wet ingredients to dry ingredients; beat until combined. Stir in chocolate chips. Drop spoonfuls of cookie dough onto baking sheet.
Bake 11-14 minutes or until edges are lightly browned.
Cool on wire racks.
Source: Culinary.net